Upcoming Exhibition:

A certain slant of light
Galerie Duboys

Best Gallery Exhibition 2012
Michael McCarthy's Human Form exhibition held at Galerie Duboys along with Fréderique Chauveaux (video installation artist) was selected as Best Gallery Exhibition in 2012 by Marc Lenot, writer of Lunettes Rouges blog affiliated with Le Monde newspaper in Paris. Read the original review of the exhibition.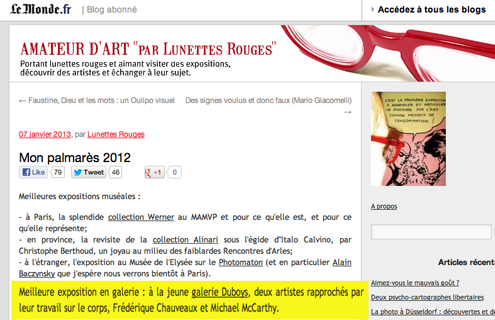 Michael has travelled the world in the last twenty-plus years, living and working in Italy for more than four years, Greece for two, and now France for five years in addition to a number of years working and teaching in the U.S. Time spent in adapting to different cultures, different languages has left an indelible mark on Michael's work which spans a wide range of subjects and investigates innumerable aspects of photo history (from the oldest photo processes to the most recent digital innovations). While fascinated by various photographic and printmaking techniques, the goal has never been to simply master the techniques but rather to use them to make statements about the world we live in.
Check out Michael's
Atelier Vagabond Photo Blog
where he posts a wide range of short articles about photography. Subjects include exhibition reviews (primarily from Paris), tips and career suggestions for young photographers as well as technical and aesthtic suggestions for those getting started with photography.
The
Atelier Vagabond Photo Tours and Workshops
site offers information about short term classes and workshops as well as photo guided tours in Paris and beyond to help beginning to advanced photographers see the hidden gems of Paris (or other locations including Paros, Greece, Tuscany and Provence) and develop their technical and aesthetic skills in photography.
Michael's photography work is represented in Paris by
Galerie Duboys
.